Reading Time:
3
mins
When you get a new a NDIS plan, your plan manager will ask for a copy to help you understand its contents.  Other providers may ask for a copy of your goals to ensure their services help you to achieve these.  A paper copy of a plan can take up to 6 weeks to arrive in the mail. This helpful step-by-step guide explains how you can access your NDIS plan and download a digital copy or print a copy for yourself or others.
If you are a nominee or a child representative, you can access their NDIS plan through your myGov and MyPlace portal.
The MyPlace Portal can only be accessed via the myGov website as it is a protected and secure site. The MyPlace portal allows you to have more control over managing your information, plans and budgets.
Here is a step-by-step guide to downloading a copy of your NDIS plan:

Login to your MyPlace Portal:
To access your MyPlace portal, you will need to first log in to myGov using your existing username and password.
Click the 'services' link at the top of the page and choose National Disability Insurance Scheme from the list.
If you are logging in for the first time, you will be required to connect your myGov account to the NDIS. You will be asked to input your activation code. Note that the activation code is only needed the first time that you log in,  so there is no need to write it down.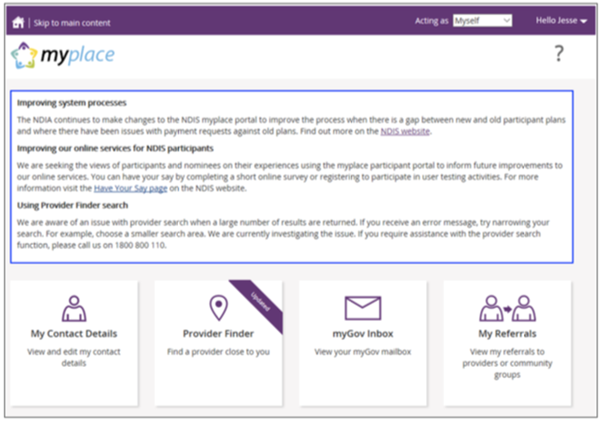 Use the drop-down menu to select who you are 'Acting as':
In the top right-hand corner use the drop-down menu to select who you are 'Acting as'. This can be yourself, or someone else.
Click on 'My Plan'
In the menu displayed, you will see a square titled 'My Plan' displayed. Note: This will only display if you have an approved NDIS plan.
Each tile gives you access to different areas of the portal. All the details of your plan can be found through the portal, including your payment requests and contact details.
Click on 'View my Plan'
On the next page, another menu will display. Click 'View my Plan'. This is a view-only section of the MyPlace Portal.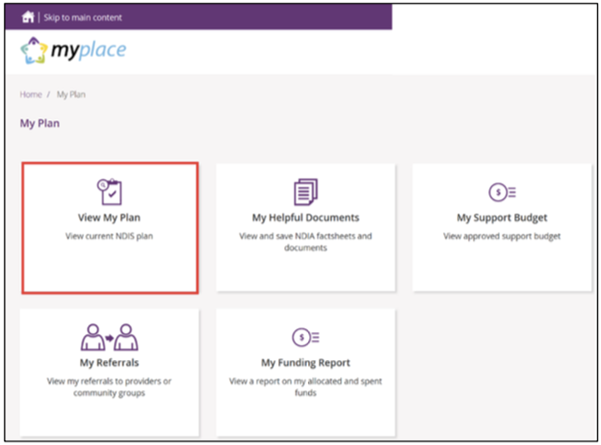 Make sure you are viewing the right NDIS plan
If you or the participant you are viewing on behalf of has more than one plan, use the drop-down menu to select the correct plan.
Your current plan will automatically default. Use the drop-down menu to select a previous plan.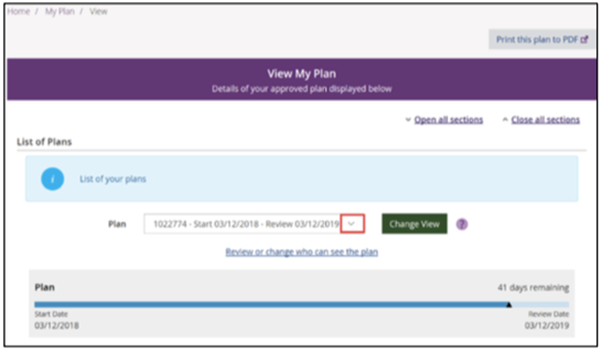 Click 'Print this plan to PDF'
Use the button 'Print this plan to PDF' at the top right-hand side to automatically download and save it to the computer. Once downloaded as a PDF you will be able to print, email, or upload your plan.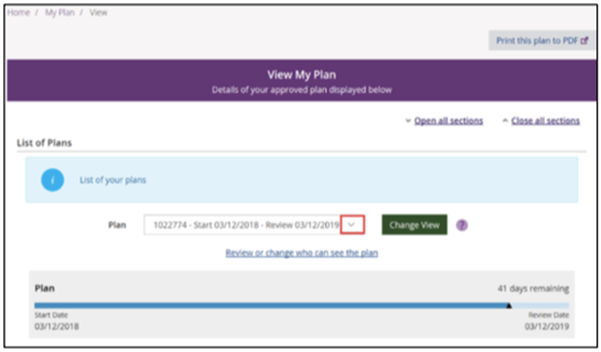 Log out of the MyPlace Portal
To log out of the MyPlace portal click on the top right-hand corner drop-down menu and select 'log out'.

The MyPlace portal is a fantastic place to update a variety of details including your important contact details. It is good to know that any information updated in the myGov app will also be automatically updated in the MyPlace portal.
We hope this step-by-step guide has helped you easily access and download a copy of yours or the person you care for NDIS plan successfully. If you wish to learn more about Acacia Plan Management, you can learn more about our services here.